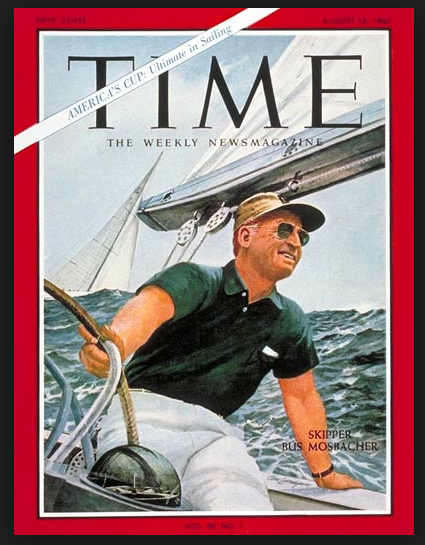 The Saw Island Foundation was founded in 1975 by Emil "Bus" Mosbacher, Jr. Bus was born in White Plains, New York in 1922. He graduated from The Choate School in 1939 and Dartmouth College in 1943. Bus served on a Navy minesweeper in the Pacific during World War II. He was widely considered the finest yachtsman of his era and successfully defended the America's Cup in 1962 and 1967.
Bus enjoyed a distinguished business career, serving as a director of Chemical Banking Corporation, Chubb Corporation, Avon Products, Inc., United Merchants and Manufacturer's Co., Lily Tulip Cup Corp., Abercrombie & Fitch Corp., Dollar Savings Bank, Amax, Inc., Amax Gold, Inc. and Putnam Trust Company.  In addition, Bus served as Chief of Protocol of the United States from 1969-1972. He dedicated much of his life to volunteer leadership, serving  as Commodore of the New York Yacht Club, Chairman of Operation Sail (which brought the world's tall ships to New York harbor in 1976, 1986 and 1992), Chairman of  the Board of Overseers of Hoover Institution at Stanford University, and a long-serving member of the Board of Trustees of Lenox Hill Hospital. Bus died in 1997 in Greenwich, Connecticut.
Bus married Patricia Ryan in 1950. Pat was born in New York in 1927 and attended Dwight Englewood School and Bennington College. After their marriage, in addition to raising their three sons, she became an exemplary philanthropist.  When Bus served as Chief of Protocol, Pat's wonderful style and elegance was a perfect fit for Washington: Pat organized the redecoration of Blair House, the United States' residence for visiting dignitaries, and entertained many diplomats and heads of state.  Numerous organizations benefited from Pat's warmth, wit and tireless effort as a board member, including the Hospital for Special Surgery, Project Hope, South Street Seaport, Freedom Institute, New York Medical College, and Barry University.  Her interests in women's issues led to support of Planned Parenthood of New York.  Pat was honored for her lifetime of service in 1987 with the William Cullen Bryant Award from the New York Medical College.  Pat died in 2009 in Palo Alto, California.